Moderator
Staff member
Top Poster Of Month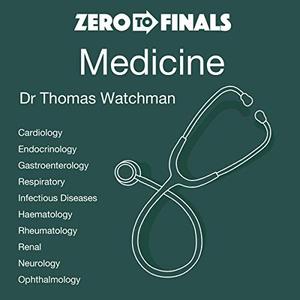 Free Download
Zero to Finals Medicine (Audiobook)
English | May 25, 2020 | ASIN: B088VKF66Y | M4B@64 kbps | 20h 59m | 572 MB
Author and Narrator: Dr. Thomas Watchman
Zero to Finals is a resource dedicated to helping medical students and other healthcare professionals prepare for exams. It was created from scratch to help students of medicine accelerate their learning, achieve more in less time and feel more motivated along the way. The Zero to Finals books are designed to be studied in preparation for your exams. The waffle has been removed, and the key information you need for your revision is presented in a simple and easy to understand way.​
Helpful "Tom Tips" are included to help you score those extra marks on points that examiners love to test. The focus is on learning the concepts, vocabulary ,and latest guidelines so you can take the fastest route to exam success and proficiency as a new doctor.
The Zero to Finals books are supplemented by the resources on the website (zerotofinals.com). There is a webpage on each topic, with illustrations, diagrams, podcasts, and videos that tackle the problem from every angle. You can also find carefully crafted practice questions to test your knowledge after studying each topic, with feedback to help you develop your exam technique.

Recommend Download Link Hight Speed | Please Say Thanks Keep Topic Live ​
Links are Interchangeable - No Password - Single Extraction​