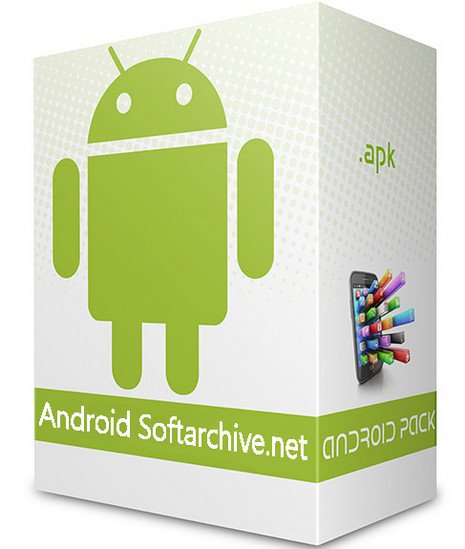 Android Only Paid Applications Collection 2022 (Week 11) | File size: 5.1 GB
​
This is Best Paid Android Applications With Last Update.
PLEASE keep in mind that not all apps/games work on all devices due to the software the device providers install.
PLEASE make sure you are using winrar 5.01 or newer.
Move APK onto your device.
Move obb folder to \sdcard\Android\obb.
Install Application
.
Code:
https://www.howtogeek.com/313433/how-to-sideload-apps-on-android/
If something doesn't work, try a clean install.
LP means Lucky Patcher
GP means Patched Google Play
UP means Uret Patcher
JP means Jasi Patcher
Included
APP MISC - 1Tap Cleaner Pro-v4.13_build_230004139-Mod Lite.apk 4.40 MB
APP MISC - 365Scores-Pro-v11.8.4_build_1184-Mod.apk 30.40 MB
APP MISC - 432 Player Pro v36.7[Paid].apk 20.43 MB
APP MISC - 7Fon Wallpapers & Backgrounds v5.5.9[Premium].apk 8.38 MB
APP MISC - 9GAG-PRO+v6.126.01 (25772)_build_61260100-Mod.apk 26.67 MB
APP MISC - AccuWeather Weather Radar v8.1.1-1[Pro][Mod Extra].apk 81.16 MB
APP MISC - All-In-One Offline Maps-Plus-v3.9b_build_114-Mod.apk 6.35 MB
APP MISC - Amons - Icon Pack v1.8.6[Paid].apk 27.38 MB
APP MISC - AnTuTu Benchmark v9.3.4.apk 45.95 MB
APP MISC - AppMgr Pro III (App 2 SD) v5.36[Mod Lite].apk 4.19 MB
APP MISC - AppMgr Pro III (App 2 SD) v5.36[Patched][Mod Extra].apk 6.60 MB
APP MISC - Auto Cursor v1.5.6[Pro].apk 3.75 MB
APP MISC - AutoResponder for WhatsApp v2.5.6[Premium].apk 11.58 MB
APP MISC - Balance Meditation & Sleep v1.54.0[Subscribed][Mod Extra].apk 118.18 MB
APP MISC - BeSoccer-Premium-v5.2.5_build_23005251-Mod.apk 23.92 MB
APP MISC - Beat.ly Music Video Maker v1.40.10333[VIP].apk 62.92 MB
APP MISC - BitTorrent Pro-v6.7.3_build_7248-Mod-armeabi-v7a.apk 14.22 MB
APP MISC - BitTorrent Pro-v6.7.3_build_7249-Mod-arm64-v8a.apk 14.50 MB
APP MISC - BitTorrent Pro-v6.7.3_build_7250-Mod-x86.apk 14.51 MB
APP MISC - BitTorrent Pro-v6.7.3_build_7251-Mod-x86_64.apk 14.51 MB
APP MISC - Busuu-Premium-v22.7.0.694_build_335645-Mod.apk 49.99 MB
APP MISC - CCleaner-Professional-v6.2.0_build_800008959-Mod.apk 35.78 MB
APP MISC - Calculator Plus-v6.3.1_build_6310.apk 9.74 MB
APP MISC - Calendar+-v1.08.83_build_253-Mod.apk 7.51 MB
APP MISC - Calm - Meditate, Sleep, Relax v5.36[Mod].apk 48.94 MB
APP MISC - CamCard - BCR (Western) v7.49.5.20220315[Paid].apk 74.70 MB
APP MISC - CamCard - Business Card Reader v7.49.5.20220315[Paid].apk 74.70 MB
APP MISC - Cash Reader Bill Identifier v2.10.1[Premium].apk 10.17 MB
APP MISC - Caynax A6W PRO-v11.0.3 PRO_build_110003-Mod.apk 8.68 MB
APP MISC - Caynax Alarm Clock PRO-v11.0.7 PRO (Android 6+)_build_110057-Mod.apk 8.32 MB
APP MISC - ClevNote-Premium-v2.22.9_build_153-Mod.apk 8.12 MB
APP MISC - Clime-Premium-v1.50.3_build_146-Mod.apk 79.04 MB
APP MISC - CloudPlayer™ Platinum v1.8.5[Paid][Patched][Mod] ARMv7.apk 26.90 MB
APP MISC - CloudPlayer™ Platinum v1.8.5[Paid][Patched][Mod] ARMv8.apk 27.26 MB
APP MISC - Code Editor-Pro-v0.7.1_build_58-Mod.apk 9.82 MB
APP MISC - Color Gloss - Icon Pack v2.1.6[Paid].apk 35.85 MB
APP MISC - Construction Calculator - Materials Evaluation v2.0[Mod].apk 13.47 MB
APP MISC - ContraCam - Speed Cameras, HUD v2.7.25[Premium].apk 14.07 MB
APP MISC - DAVx -v4.2-gplay_build_402000006-armeabi-v7a,arm64-v8a,x86,x86_64.apk 10.73 MB
APP MISC - DevCheck Hardware and System Info v4.20[Pro][Mod Extra].apk 14.14 MB
APP MISC - Device Info-Premium-v3.2.23_build_132-Mod.apk 6.60 MB
APP MISC - Easy Notes - Notepad, Notebook v1.1.11.0318[VIP].apk 31.36 MB
APP MISC - Elements KWGT v8.6[Paid].apk 43.96 MB
APP MISC - Elevate - Brain Training Games v5.58.0[Pro][Mod Extra].apk 62.73 MB
APP MISC - Festival Poster Maker Business Banner 2021, Video v3.0.5[Premium].apk 129.53 MB
APP MISC - FilmPlus v1.4.1[Mod Lite].apk 13.73 MB
APP MISC - Fit Radio Workout Music & Coach v2022.03.15.1440[Premium].apk 43.15 MB
APP MISC - Fitify-Pro-v1.26.1_build_3151-Mod.apk 153.65 MB
APP MISC - Fuelmeter Fuel consumption v3.7.1[Pro].apk 6.23 MB
APP MISC - GFX Tool Pro for BGMI & PUBG v21.0.0[Paid Patched].apk 22.80 MB
APP MISC - Grammatisch - Learn German Grammar v2.2.13[Subscribed].apk 11.92 MB
APP MISC - Hay House Unlimited Audio v1.10.1-66[Subscribed].apk 22.88 MB
APP MISC - Hermit • Lite Apps Browser v20.0.0[Altered].apk 3.47 MB
APP MISC - Historical Calendar v5.7.6[Premium].apk 7.22 MB
APP MISC - IR Code Finder NEC protocol v6.0.1[Unlocked].apk 3.06 MB
APP MISC - ISS Detector Pro-v2.04.45 Pro_build_3005045-Mod.apk 12.63 MB
APP MISC - Internet Speed Monitor-Premium-v0.9.7.4_build_52-Mod.apk 4.25 MB
APP MISC - Journal it - Bullet Diary & Journal v7.1.3[Premium].apk 75.41 MB
APP MISC - K-9 Mail v5.913[Beta].apk 7.41 MB
APP MISC - Kaorin - Icon Pack v1.8.6[Paid].apk 51.62 MB
APP MISC - Lifesum-Premium-v10.7.0_build_426-Mod.apk 44.38 MB
APP MISC - Listen to radio online Zaycev.FM v3.0.5[Premium].apk 23.61 MB
APP MISC - Location Changer 3.08_sign.apk 841.04 kB
APP MISC - Locus Map Pro-v3.58.0_build_1062-armeabi-v7a,arm64-v8a,x86,x86_64.apk 41.57 MB
APP MISC - Lucky Patcher v10.0.5[Mod Color Lite].apk 4.81 MB
APP MISC - MDGramYou v6.0 (Telegram Mod v8.6.1)(Mod) ARMv7.apk 43.00 MB
APP MISC - MDGramYou v6.0 (Telegram Mod v8.6.1)(Mod) ARMv8.apk 43.24 MB
APP MISC - MX Player v1.45.0[Beta][Unlocked][AC3 DTS][No Google].apk 42.05 MB
APP MISC - Mantis Gamepad Pro Beta v1.3.2b[Pro].apk 43.77 MB
APP MISC - MapMyRun-Premium-v22.5.0_build_22050003-Mod.apk 67.83 MB
APP MISC - Meditative Mind Music, Mantras & Sleep Sounds v2.71[Premium].apk 11.91 MB
APP MISC - Moon+ Reader Pro-v7.3_build_703001-Mod.apk 30.48 MB
APP MISC - MyRadar Weather Radar v8.29.1[Pro][Mod].apk 53.97 MB
APP MISC - Network Utilities v8.1.1 b 204[Premium].apk 3.54 MB
APP MISC - Notification light - aodNotify v3.75 b29659[Pro].apk 3.76 MB
APP MISC - OLED Wallpapers 4K v5.5.9[Premium].apk 8.67 MB
APP MISC - OneFootball-v14.26.2_build_1014262067-Mod.apk 33.46 MB
APP MISC - Oxygen Updater v5.7.1[AdFree].apk 5.97 MB
APP MISC - PDF Extra-Premium-v8.3.1385_build_1385-Mod-armeabi-v7a,arm64-v8a,x86,x86_64.apk 64.80 MB
APP MISC - Peak-Pro-v4.17.0_build_800932-Mod.apk 322.49 MB
APP MISC - Picsart Photo & Video Editor v19.3.0[Beta][Gold].apk 64.83 MB
APP MISC - Picture Insect & Spider ID v2.7.12[Premium].apk 34.98 MB
APP MISC - Pixel Minimal Watch Face - Watch Faces for WearOS v2.0.21 (Premium).apk 4.92 MB
APP MISC - Pixel+-v5.4.0_build_5400-Mod.apk 10.93 MB
APP MISC - Pixtica Camera and Editor v2022.3[Premium].apk 75.42 MB
APP MISC - Plus Messenger (Telegram Plus) v8.6.1.2[Mod Extra] ARMv7.apk 29.68 MB
APP MISC - Plus Messenger (Telegram Plus) v8.6.1.2[Mod Extra] ARMv8.apk 29.88 MB
APP MISC - Podcast Republic - Podcast app v22.3.14R[Unlocked][Mod Extra].apk 16.95 MB
APP MISC - Radio Caprice online Music v3.19[AdFree].apk 13.07 MB
APP MISC - Rest icon pack v3.3.8[Paid].apk 26.68 MB
APP MISC - Retro Music-Premium-v5.7.3_0311202207_build_10568-Mod.apk 9.24 MB
APP MISC - Rotation - Orientation Manager v24.3.0[Pro][Mod].apk 4.30 MB
APP MISC - SMS Auto Reply - Autoresponder v8.3.6[Paid].apk 8.26 MB
APP MISC - Shazam-v12.15.0-220310_build_1201500-Mod.apk 24.07 MB
APP MISC - Shimu - Icon Pack v2.3.7[Paid].apk 30.72 MB
APP MISC - Simply Piano by JoyTunes v7.2.3[Premium] MOD1.apk 57.44 MB
APP MISC - Simply Piano by JoyTunes v7.2.3[Premium] MOD2.apk 57.52 MB
APP MISC - Slumber Fall Asleep, Insomnia v1.2.3[Premium].apk 68.92 MB
APP MISC - Smart TV Remote Smart ThinQ v3.7[Premium].apk 35.81 MB
APP MISC - SmartTube Next v14.36[Stable][No ADS][No ROOT][Android TV][Mod] DARK.apk 16.55 MB
APP MISC - SmartTube Next v14.36[Stable][No ADS][No ROOT][Android TV][Mod] Red.apk 16.55 MB
APP MISC - SmartTube Next v14.36[Stable][No ADS][No ROOT][Android TV][Mod] White.apk 16.57 MB
APP MISC - Speedometer GPS Speed Tracker v1.32.3[Pro].apk 7.81 MB
APP MISC - Status Saver for WhatsApp v1.0.36[Pro].apk 12.57 MB
APP MISC - Sygic-Premium-v21.1.0-1983_build_210210100-Mod-armeabi-v7a.apk 68.70 MB
APP MISC - Sygic-Premium-v21.1.0-1983_build_211210100-Mod-arm64-v8a.apk 62.01 MB
APP MISC - TIDAL-v2.57.0_build_1058-Mod Lite-arm64-v8a.apk 29.22 MB
APP MISC - TIDAL-v2.57.0_build_1058-Mod Lite-armeabi-v7a.apk 28.80 MB
APP MISC - TIME WARP SCAN 6.4.0.1 Premium.apk 6.82 MB
APP MISC - Thermometer++ v5.1.0[Premium].apk 4.55 MB
APP MISC - Toolmaps-v5.23_build_220203-Mod.apk 4.68 MB
APP MISC - Torque Pro (OBD 2 & Car) v1.12.98[Pro].apk 13.97 MB
APP MISC - Total Launcher-Premium-v2.9.0_build_20900-Mod.apk 5.05 MB
APP MISC - Trabee Pocket Travel Expense v3.0.1[Pro].apk 21.98 MB
APP MISC - Transparent clock & weather (ad-free)-Premium-v6.2.2_build_789-Mod.apk 26.36 MB
APP MISC - Truecaller Caller ID & Spam v12.19.7 Beta[Gold][Mod].apk 101.35 MB
APP MISC - Truecaller v12.19.7[Gold+Orange+Purple+Lite](armeabi-v7a).apk 67.73 MB
APP MISC - Truecaller v12.19.7[Gold+Orange+Purple].apk 101.35 MB
APP MISC - TuneIn Radio Pro-v28.8_build_267979-Mod.apk 27.75 MB
APP MISC - Turbo Alarm-Premium-v8.1.1_build_811-Mod.apk 6.37 MB
APP MISC - UbikiTouch v1.11.4[Pro].apk 3.79 MB
APP MISC - Ucmate v50.1 build 808[AdFree].apk 12.41 MB
APP MISC - VSCO-X-v261_build_100016463-Mod.apk 82.63 MB
APP MISC - Viber - Safe Chats And Calls v17.2.0.3[Extra Mod].apk 47.00 MB
APP MISC - Video Editor - Glitch Video v2.3.0.3[Pro].apk 36.20 MB
APP MISC - VivaCut - Pro Video Editor APP v2.10.7[Pro] ARMv7.apk 92.90 MB
APP MISC - VivaCut - Pro Video Editor APP v2.10.7[Pro] ARMv8.apk 113.49 MB
APP MISC - VivaCut - Pro Video Editor APP v2.10.7[Pro] x64.apk 89.52 MB
APP MISC - Wallet-Premium-v8.4.31_build_84031-Mod.apk 39.82 MB
APP MISC - WarnWetter v3.6.0[Unlocked].apk 49.76 MB
APP MISC - Watch Face Coupon Store v1.1.3[AdFree].apk 13.48 MB
APP MISC - Wave Live Wallpapers Maker 3D v5.3.3[Unlocked].apk 176.62 MB
APP MISC - Waze - GPS, Maps, Traffic Alerts & Live Navigation v4.82.0.0[RC].apk 87.41 MB
APP MISC - Weather-Premium-v2.13.4_build_4989-Mod.apk 41.84 MB
APP MISC - Widgetopia iOS 14 Widgets v2.2.6[Unlocked].apk 23.25 MB
APP MISC - Wind KLWP v5.5[Paid].apk 28.90 MB
APP MISC - Work Shift Calendar-Pro-v2.0.5.1_build_223-Mod.apk 15.51 MB
APP MISC - X Icon Changer - Change Icons v4.0.1[Pro].apk 13.04 MB
APP MISC - Yandex.Weather v22.3.1[AdFree].apk 17.96 MB
APP MISC - YoWindow-v2.32.3_build_1212-armeabi-v7a,arm64-v8a,x86,x86_64.apk 28.20 MB
APP MISC - Zank Remote - Android, Fire TV v16.6[Premium][Lite].apk 3.82 MB
APP MISC - chomp SMS v8.51 build 9085100[Pro][Mod Extra].apk 12.82 MB
APP MISC - mySugr - Diabetes App & Blood Sugar Tracker v3.92.26[Pro].apk 103.78 MB
APP MISC - tTorrent-v1.8.1_build_30000165-arm64-v8a.apk 7.93 MB
APP MISC - µTorrent®- Torrent Downloader v6.7.3[Pro] ARMv7.apk 14.19 MB
APP MISC - µTorrent®- Torrent Downloader v6.7.3[Pro] ARMv8.apk 14.77 MB
Buy Premium Account From My Download Links And Get Resumable Support & SUPER Fastest Download Speed
Code:
https://rapidgator.net/file/7adf14f4ccde0da607df2d01b8aa7824/Android.only.Paid.Week.11.2022.APP.MISC.part1.rar.html
https://rapidgator.net/file/fccb2f7be199d5e10a7f22ca557d8b24/Android.only.Paid.Week.11.2022.APP.MISC.part2.rar.html
https://rapidgator.net/file/7d7a2adaed25d6dee9fc323d25eb0f9f/Android.only.Paid.Week.11.2022.APP.MISC.part3.rar.html
Code:
https://nitro.download/view/F0CBE77EF5EC85C/Android.only.Paid.Week.11.2022.APP.MISC.part1.rar
https://nitro.download/view/720D44DD7730936/Android.only.Paid.Week.11.2022.APP.MISC.part2.rar
https://nitro.download/view/919371D15263A5A/Android.only.Paid.Week.11.2022.APP.MISC.part3.rar