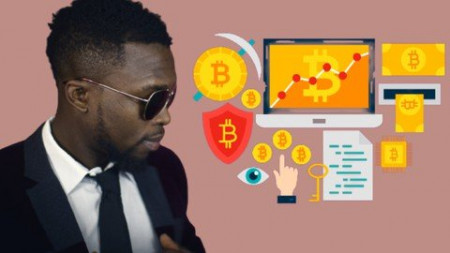 From 0 To Hero: How To Create a Token & Launch ICO/IDO/IEO
MP4 | Video: h264, 1280x720 | Audio: AAC, 44.1 KHz
Language: English | Size: 1.52 GB | Duration: 3h 14m
This course will teach you everything you need to know in order to create cryptocurrency token and launch an IDO.​
What you'll learn
Learn everything you need to know about creating a cryptocurrency token
Learn the essentials for launching an IDO, ICO, and IEO
Learn want your token(sale) website should include
Learn where you can run your tokensale and where to submit your token for more exposure
Requirements
You should have a bank account and/or debit card to be able to buy Bitcoin and other Cryptocurrencies
You should have access to the internet so that you can access the 'Wallet' and the 'Exchange'
You can start with as little or as much money as you want!
You should have an open mind and be prepared to be blown away by the concept of DeFi
Description
Hi and welcome to this From 0 To Hero: How To Create a Token & Launch ICO/IDO/IEO with us Top Things To Know.
Landing on our course page means you are in the right place at the right time. Every year tens of billions of dollars are invested by venture capital firms in cryptocurrency startups. The cryptocurrency market size is over 2 trillion dollars. Based on the expected rapid growth and fresh investments in the blockchain industry soon the market may reach over 10 trillion dollars. So why not join the space and create your very own cryptocurrency utility token and grow your startup and business horizons? He are just few of the many important facts about the blockchain industry and how it is currently reshaping the banking and financial sectors
The Bitcoin halving, which commenced on 11th of May, 2020, was one of the most anticipated events for the past 4 years in the cryptocurrency space. The halving was followed by the DeFi(decentralized finance), Yield Farming, NFTs(non-fungible tokens), play-to-earn games, the metaverse, and the ProShares Bitcoin Strategy ETF (BITO) which is the first U.S. bitcoin-linked ETF offering investors an opportunity to gain exposure to bitcoin returns in a convenient, liquid and transparent way. In 2021, El Salvador was the first country to accept Bitcoin as a legal tender.
The continuous novel coronavirus outbreak in 2020-2022, the money printing, the rising inflation rates, the new all time high real estate global prices, and the "new" work from home environment are only some of the reasons why Wall Street and retail investors are hedging their money in Bitcoin and other cryptocurrencies.
So is it late to join and make the first steps towards your early retirement and a better life? - NO! It is never too late to join at any time. The rise and development of the blockchain technology are yet to show their full potential and effects on everything around us!
Blockchains and protocols like Bitcoin, Ethereum, Cardano, Solana, Polkadot, TERRA(LUNA), Avalanche, Polygon,Near Protocol, Fantom, ATOM, and Tron are transforming the financial markets, global banking and many many other systems.
Also, Bitcoin is ranked as the best performing asset in 2020, outperforming stocks, commodities, indexes, and most importantly Gold. There was and is, after all, a reason why Bitcoin was sealed as "digital gold". Apart from Bitcoin, there are thousands of interesting cryptocurrency projects doing progress on a daily basis. We are yet to explore together on how you can capitalize on this amazing once in a lifetime changing experience.
So you are about to join something that will change our whole generation and understanding of finance, banking, internet, gaming, art, metaverse, decentralization, anonymity and more!
Are you ready to start your journey today and never look back again!
Who this course is for
Anyone who wants to learn how to create a Cryptocurrency token and doesn't know where to start
Anyone looking for strategies to fund their startup through the Cryptocurrency community
Anyone who wants to buidl or get involved in the Cryptocurrency space
Anyone who does not understand DeFi and wants to learn how it works, simply!
Screenshots
Code:
https://hot4share.com/838r98vlrvd1/From_0_To_Hero_How_To_Create_a_Token___Launch_ICOIDOIEO.part1.rar.html
https://hot4share.com/wz865mixdfhh/From_0_To_Hero_How_To_Create_a_Token___Launch_ICOIDOIEO.part2.rar.html

https://rapidgator.net/file/a934e5ec231930bda8ca5bbf7b66e164/From_0_To_Hero_How_To_Create_a_Token_&_Launch_ICOIDOIEO.part1.rar.html
https://rapidgator.net/file/cb642d10fba3b132e66fe13796a72e3b/From_0_To_Hero_How_To_Create_a_Token_&_Launch_ICOIDOIEO.part2.rar.html

https://uploadgig.com/file/download/5a3ffc9dc3AF221C/From_0_To_Hero_How_To_Create_a_Token__Launch_ICOIDOIEO.part1.rar
https://uploadgig.com/file/download/3b57d52D0C616877/From_0_To_Hero_How_To_Create_a_Token__Launch_ICOIDOIEO.part2.rar