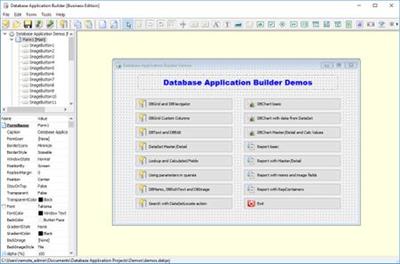 Longtion Database Application Builder 4.3.0.465 | 3.1 Mb
Database applications let users interact with information that is stored in databases. Databases provide structure for the information, and allow it to be shared among different applications. Database Application Builder provides support for relational database applications. Relational databases organize information into tables, which contain rows (records) and columns (fields). These tables can be manipulated by simple operations known as the relational calculus.
When designing a database application, you must understand how the data is structured. Based on that structure, you can then design a user interface to display data to the user and allow the user to enter new information or modify existing data.
How to connect to database server?
Database applications created by Database Application Builder use ActiveX Data Objects (ADO) to access database information through OLEDB. ADO is a Microsoft Standard. There is a broad range of ADO drivers available for connecting to different database servers. ADO, (Microsoft ActiveX Data Objects) is a set of COM objects that access data through an OLE DB provider. ADO and OLE DB is supplied by Microsoft and installed with Windows. An ADO provider represents one of a number of types of access, from native OLE DB drivers to ODBC drivers. These drivers must be installed on the client computer. OLE DB drivers for various database systems are supplied by the database vendor or by a third-party. If the application uses an SQL database, such as Microsoft SQL Server or Oracle, the client software for that database system must also be installed on the client computer. Client software is supplied by the database vendor and installed from the database systems CD (or disk).
Create database applications with Database Application Builder
Database Application Builder is a tool for creating database applications without writing any code. And you don't have to be a software programmer to do it. With its intuitive integrated development environment (IDE) and drag-and-drop objects, it's quick to learn and easy to use. It requires no programming knowledge.
Create database applications that can create, restructure, fetch data from, update, and otherwise manipulate local (Paradox, dBASE, FoxPro, and Access) and remote database servers (Oracle, Sybase, Informix, Microsoft SQL server, and DB2). You can access a wide variety of database servers, using ADO or ODBC to connect to different databases.
With Database Application Builder, you can create database applications that analyze and summarize information from databases so that users can draw conclusions from the data. The DBChart object lets you present database information in a graphical format that enables users to quickly grasp the import of database information. DBChart includes chart series types: Line, Area, Point, Bar, Horizontal Bar and Pie.
With Database Application Builder, you can create database applications that print database information. If you want to let your users print database information from the datasets in your database application, you can use Report objects, visual report design objects. You can use Report objects to create a variety of reports, from simple banded reports to more complex, highly customized reports. Users can also export reports to PDF (.pdf), RichText (.rtf), Excel (.xls) and Text (.txt) files.
Operating System:
Windows 2000/XP/2003/2008/Vista/7/8/10/11
Home Page
-http://www.longtion.com/
Recommend Download Link Hight Speed
|
Please Say Thanks Keep Topic Live
Code:
https://hot4share.com/i60qlz590tw6/w7c86.Longtion.Database.Application.Builder.4.3.0.465.rar.html
Rapidgator
https://rapidgator.net/file/693264d42fd149bc623960975acd79dc/w7c86.Longtion.Database.Application.Builder.4.3.0.465.rar.html
Uploadgig
https://uploadgig.com/file/download/37bB49b4bf5f19A2/w7c86.Longtion.Database.Application.Builder.4.3.0.465.rar
NitroFlare
http://nitro.download/view/FABBA8BD2DC9B39/w7c86.Longtion.Database.Application.Builder.4.3.0.465.rar